The Batchelder-Higgins Store and Post Office, 1876-2014
This exhibit consists of furnishings and artifacts from one of the two stores facing the historic Newfane Common. That store now has served for nearly a century and a half. Its name here honors the two different families who ran it the longest – brothers Newton and Hildreth Batchelder, and then Lewis and ida Higgins. Between them they operated it for 85 straight years from 1876 to 1961, when Mr. Higgins died.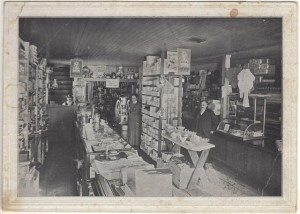 The store was built in 1876 on part of the site of what once was Newfane's largest and most impressive building, the Jones Exchange, which burned to the ground in April, 1875. Lemuel Winslow tried to partially recover his loss by building the present store, but he began renting it to Newton Batchelder very soon thereafter.
Most of the items seen here date to the store's early years in the late 1800 and early 1900's, but you may also notice a few more recent pieces. We have included them just as a reminder that its history continues right up to the present. However what is truly remarkable is to be able to trace every single item here (apart from the chair which we added just to give the storekeeper a spot to rest between customers) to this single location.
Like so many early Vermont stores, this one also long served as the local post office. Storekeepers usually were more than eager to assume this dual role of postmaster. Not only did it produce a welcome bit of extra income, it also exposed everyone sending or receiving their mail to a wealth of merchandise just waiting to be bought.
Store Owners
1876 – Lemuel and Mary Winslow
Sept. 30, 1885 – Newton Batchelder (and rental since 1876)
Nov. 10, 1926 – Lewis and Ida Higgins
Mar. 1963 – Paul and Esther Robinson/July – Bert Jacobs and R. McCafferty/ Dec. – VillageStore
Dec. 19, 1968 – William and Shirley Schommer
Dec. 13, 1976 – Peter and Mary Neubauer
June, 2002 – Robert and Marilyn Distelberg
Sincere thanks to Bob and Marilyn Distelberg for their generous donation of the items in this exhibit.