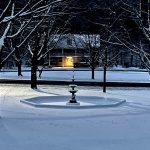 The Historical Society of Windham County was founded in 1927, making it one of the oldest historical societies in the State, apart from the Vermont Historical Society. As the Society approaches its Centennial celebration, it has accumulated such an extensive collection of artifacts, photographs, documents and manuscripts, that it has long outgrown its current space in the 1936 County Museum building.  Additionally, the 1936 Museum building lacks access to persons with disabilities due to the structural and space limitations of the brick structure. 
When the County Sheriff's Department moved its offices from Newfane to Brattleboro last year, the 1825 County Jail building was left vacant for the first time in close to 200 years. Deed restrictions, dating back to 1824 when the land was donated to the County, prohibit any commercial use on the property, and a court ruling in 1971 reinforced "that the uses to be made of the said jail building shall benefit the inhabitants of Windham County."  The Historical Society of Windham selectively fulfilled those requirements, and will be the occupant of the historic building once renovations are complete. The adaptive use of the former Windham County Jail building to be the main County Museum resolves all the space limitations the Society has faced for decades.
Prior to the expansion into the Jail building, extensive renovations to the three-story building's interior are necessary.
First Floor: Phase I of the renovation is well underway, and required deconstruction of non-load bearing walls, to create an open concept for engaging exhibits on all three floors, as well as office space to accommodate the Society's operations. Renovations of the first floor, including sheet rocking, finish carpentry, painting and new flooring are complete, with just exhibit lighting yet to be installed.
Second and Third Floors: Renovation of the second and third floors requires sheet rocking, finish carpentry, painting and new flooring. Electrical and security systems will be installed in the building during this phase.
Restoration of the Jail Cells: The restoration of the historic jail quarters on the first floor and the women's jail quarters on the third floor primarily involves lead paint mitigation. The purchase and installation of the Museum's exhibit lighting and cabinetry will also be completed at this time.
The Society anticipates a Grand Opening of the new Museum in the County Jail building during the 2024 season.
With its expansion into the historic County Jail building, the Historical Society is set on a course which will be as critical to advancing its mission into the future as the decision of its founders was when they built our current museum in 1936.
We hope you will consider supporting this rare opportunity — what it can mean not just for those of us here today, but also for those who will be living in, and visiting this very special place of ours a hundred years or more from now. We thank you!